Xtra – The specialists for brittle materials
Xtra
The specialist for brittle materials
The specialist for brittle materials.
The special granulator for demanding users
The screenless type of crusher granulators of the Xtra Series are ideal for brittle plastic materials. With large primary crushers, plastic sprues and parts are pre-crushed before being broken down to a final size via the toothed rollers (available with 4 and 5 mm teeth) without screening. There are benefits compared with blade granulators with screen, in terms of regrind quality and use, particular with brittle materials. As a result, the noise level is lower when granulating massive sprues and the regrind has fewer fine parts when processing brittle plastics.
The Xtra-Series machines are also very compact and easy to clean. The hardened cutting tools made from high quality steel alloys guarantee a long service life even when processing abrasive plastics.
The screenless crusher granulators are available in different configurations and are easy to adapt to specific user requirements.
The advantages of the Xtra-Series
Significantly reduced noise level when processing hard, brittle and massive sprues due to low rotor speed.
Compact dimensions mean minimal space requirement.
Cutting chamber easy to open without necessity of tools. Only little service works required.
Low energy consumption due to use of high torque gear drives.
Very good price-performance ratio.
Made in Germany
Cutting chamber and rotor are easily accessible, which simplifies cleaning and maintenance. Due to the low rotor speed and the shearing action significantly lower noise level in comparison to standard knife granulators.
The Xtra-Series: Technical Data 
| | Xtra 1 | Xtra 2 | Xtra 3 |
| --- | --- | --- | --- |
| Cutting chamber opening: | 260 x 170 mm² | 260 x 260 mm² | 260 x 350 mm² |
| Tooth rollers: | 2 pcs | 3 pcs | 4 pcs |
| Primary crusher: | 1 pc / 3 arms | 2 pc / 3 arms | 3 pc / 3 arms |
| Rotor speed: | 32/min | 32/min | 32/min |
| Tooth size: | 4 – 5 mm | 4 – 5 mm | 4 – 5 mm |
| Motor power: | 1,1 kW | 1,5 kW | 2,2 kW |
| Power supply: | 400 volts/ 50 Hz | 400 volts/ 50 Hz | 400 volts/ 50 Hz |
| Weight (Standard): | 210 kg | 230 kg | 250 kg |
| Control: | protective controller with overload release, 5m connecting cable | protective controller with overload release, 5m connecting cable | protective controller with overload release, 5m connecting cable |
Motors for other voltages are available upon request
The Xtra-Series: Dimensional drawing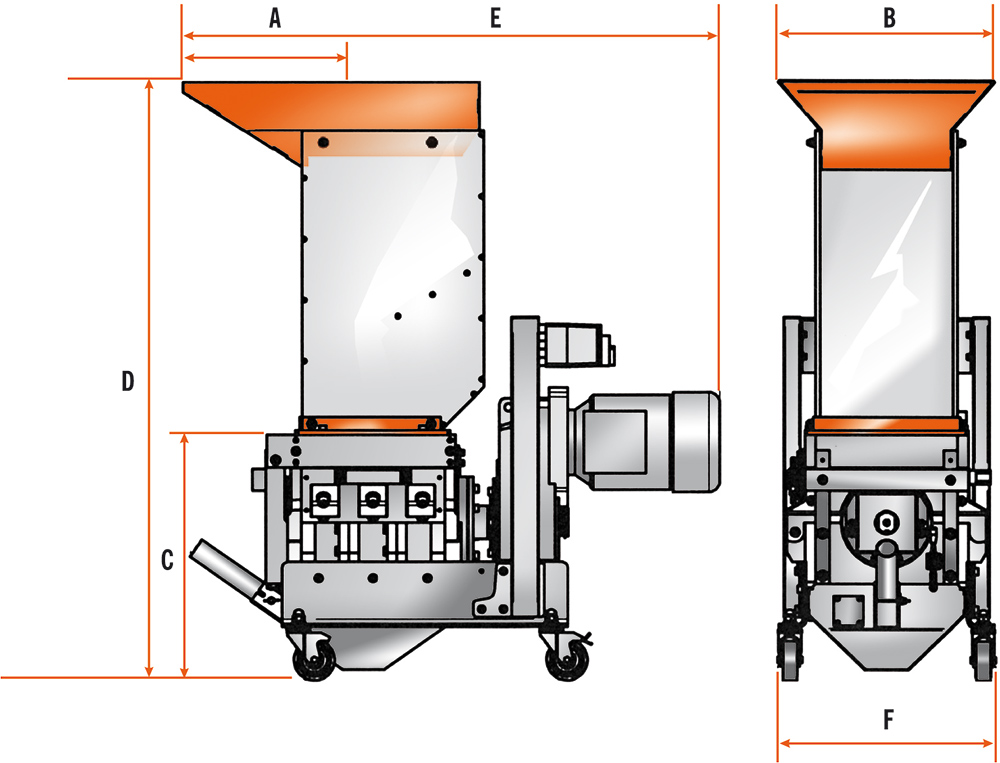 | | Xtra 1 | Xtra 2 | Xtra 3 |
| --- | --- | --- | --- |
| A | 200 | 290 | 290 |
| B | 330 | 395 | 405 |
| C | 450 | 450 | 450 |
| D | 945 | 1100 | 1200 |
| E | 900 | 990 | 1125 |
| F | 400 | 400 | 400 |
Product images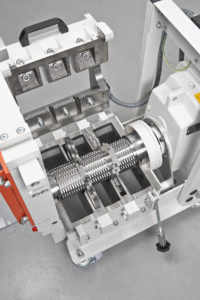 Videos
The Wanner Xtra Line
Duration: 03:49 min
Specialist granulator for hard and brittle plastic materials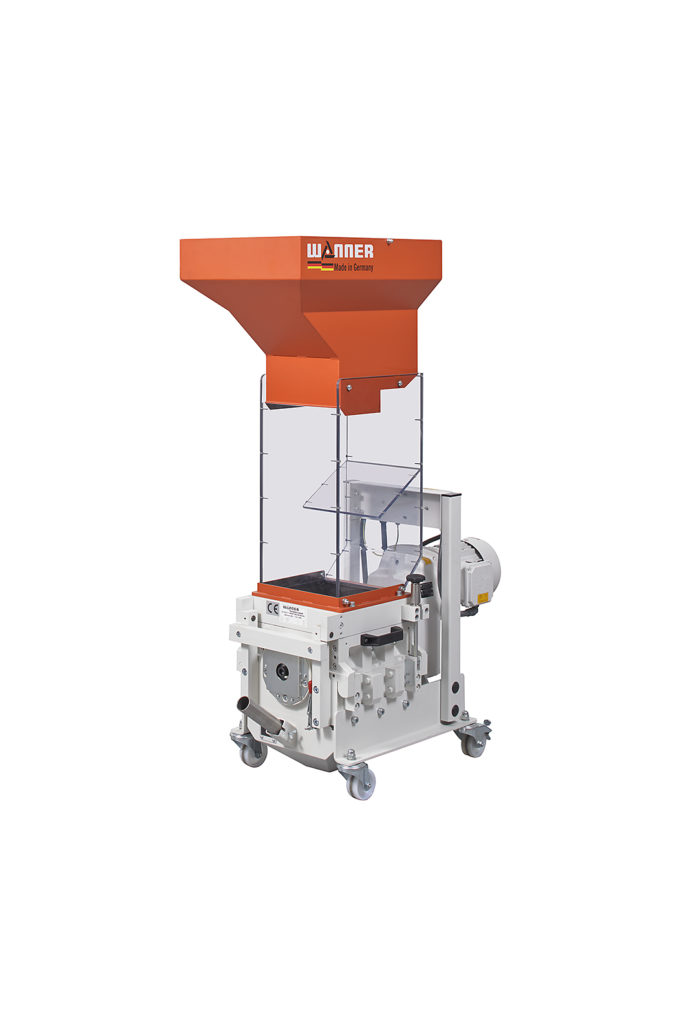 Xtra 2 screenless type of granulator in standard design