Baby – The granulator for the smallest sprues
The granulator for the smallest sprues.
The granulator B08.10 is designed for the granulation of small sprues. Typical applications are the granulation of CD sprues and small sprues from microinjection moulding.
The granulator type B08.10 is specially designed for the granulation of CD sprues, while the modell B08.10S is designed for general microinjection moulding applications .
The cutting chamber of the B Series granulators including rotor and screen are made of stainless steel, to fulfill also high purity standards for regrind. In addition, the cutting chamber is hermetically sealed to prevent the regrind from being contaminated by incoming air or dust when extracted by suction. It is therefore possible to use this granulator
under clean room conditions, as is typical in CD production.
Both models granulate sprues at low speed. This ensures a virtually dust-free regrind as well as maintaining a very low noise level.
The optimized geometry of the V-formation scissors cut and the cascading, multi-level rotor is providing a very effective granulation process and therefore the power required
by the geared motor is reduced without compromising granulator efficiency. The Baby Series offers the optimal solution for the granulation of small sprues for microinjection moulding and CD production.
The advantages of the B-Series
Low speed rotor and optimized scissors cut for a high-quality regrind and low noise level.
Compact dimensions mean minimal space requirement.
Low maintenance level: cutting chamber may be quickly opened for easy cleaning.
Very low energy consumption
Very good price-performance ratio.
Cutting chamber and rotor are easily accessible, which simplifies cleaning and maintenance.
The B-Series: Technical Data
| | B 08.10 |
| --- | --- |
| Cutting chamber opening: | 80 mm x 100 mm² |
| Rotor diameter: | 90 mm |
| Rotor knives: | 9 pcs. |
| Stator knives: | 2 pcs. |
| Motor power: | 0,75 kW |
| Power supply: | 400 V / 50 Hz |
| Screen size: | 3-5 mm |
| Weight: | approx. 40 kg |
The B-Series: Dimensional drawing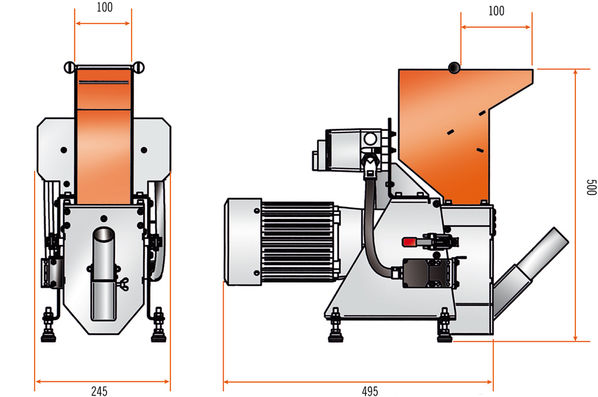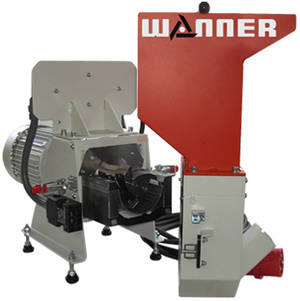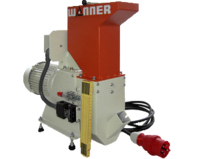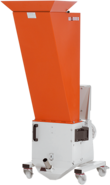 Beside-the-press applications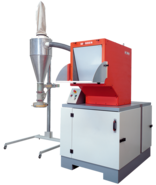 Central granulator applications