Energy – The central granulator for large parts and high throughputs
Energy
The central granulator line for large parts and high throughputs
The central granulator for large parts and high throughputs.
The E-Serie consits of 6 sizes regarding cutting chamber opening:
E 30.50 300 x 500 mm²
E 35.40 350 x 400 mm²
E 35.60 350 x 600 mm²
E 45.50 450 x 500 mm²
E 45.80 450 x 800 mm²
The new E-Series (Energy-Series) granulators are very suitable as powerful central granulators for the processing of sprues and failparts up to a throughput of 800 kg/hr (depending on the products, its material, geometry and screen size). Whether bulky or thin-walled parts, sprues/runners or extruded profiles, the E Series can effectively process them all. The resulting high quality, uniform granulate can be reused directly in subsequent production processes.
By standard, these granulators come with integrated sound enclosure and a special framework design to reduce structure born noise, thus qualifying these machines also for in-line applications in the production of large blow or injection moulded parts. The extensive actions taken to reduce noise and impact sound are lowering the stress on the operator.
The large doors on the front of the enclosure provide easy access to all main components, such as the cutting chamber, blower, etc., without the use of tools.
The knives can be pre-adjusted outside the cutting chamber by means of a gauge to ensure precise tolerances once the knives are re-installed. As with all Wanner granulators, the new E Series benefits from many outstanding features and proves to be good value for money. You will find the granulator's high performance, robust design and ease of use second to none.
The advantages of the E-Series
Sound proof enclosure as standard for low noise levels.
Easy access to the integrated, sound dampened, blower for cleaning.
Partially sandwiched welded steel cutting chamber, for minimum vibration.
Rubber mounts isolate the cutting chamber and motor from the base frame and feed hopper for reduced vibration and noise levels.
Tangential entry cutting chamber for easy feed of bulky reject parts.
Oversized bearings, shafts and drive guarantee long service life.
A choice of rotor geometries to suit your application. Standard scissor or V-cut configuration for high quality, low dust granulate.
Small footprint achieved by compact design. Optional castors for ease of mobility.
Quick and easy, no tools access to cutting chamber for material or colour change.
Additional interface options for control of associated ancillary equipment.
System components such as material in-feed conveyor, metal detector, metal separator, granulate removal and de-dusting units for the complete recycling package.
Easily accessible cutting chamber, motor andblower via large doors in the sound proof enclosure.
The E-Series: Technical Data
| | E30.50 | E35.40 | E35.60 | E45.50 | E45.80 |
| --- | --- | --- | --- | --- | --- |
| Cutting chamber opening: | 300 x 500 mm | 350 x 400 mm | 350 x 600 mm | 450 x 500 mm | 450 x 800 mm |
| Rotor diameter: | 250 mm | 300 mm | 300 mm | 400 mm | 400 mm |
| Rotor knives: | 2 x 3 | 2 x 3 oder 2x 5 | 2 x 3 oder 2x 5 | 2 x 3 oder 2x 5 | 2 x 3 oder 2x 5 |
| Stator knives: | 2 optional 3 | 2 optional 3 | 2 optional 3 | 2 optional 3 | 2 optional 3 |
| Cutting geometry: | V-cut | V-cut | V-cut | V-cut | V-cut |
| Motor power: | 7,5 kW – 11 kW | 11 kW – 18 kW | 11 kW – 18 kW | 18 kW – 30 kW | 18 kW – 30 kW |
| Rotor speed: | 630/min. | 500/min. | 500/min. | 450/min. | 450/min. |
| Power supply: * | 3×400 Volt | 3×400 Volt | 3×400 Volt | 3×400 Volt | 3×400 Volt |
| Screen size: * | 5, 6, 8, 10, 12 mm | 5, 6, 8, 10, 12 mm | 5, 6, 8, 10, 12 mm | 5, 6, 8, 10, 12 mm | 5, 6, 8, 10, 12 mm |
| Weight (standard): | ca. 900 kg | ca. 1200 kg | ca. 1400 kg | ca. 1750 kg | ca. 2000 kg |
| Blower type: (Option) | BL 30 | BL 30 | BL 40 | BL 40 | BL 40 |
*Power supply:
other supplies available on request
*Screen size:
other sizes available on request
The E-Series: Dimensional drawing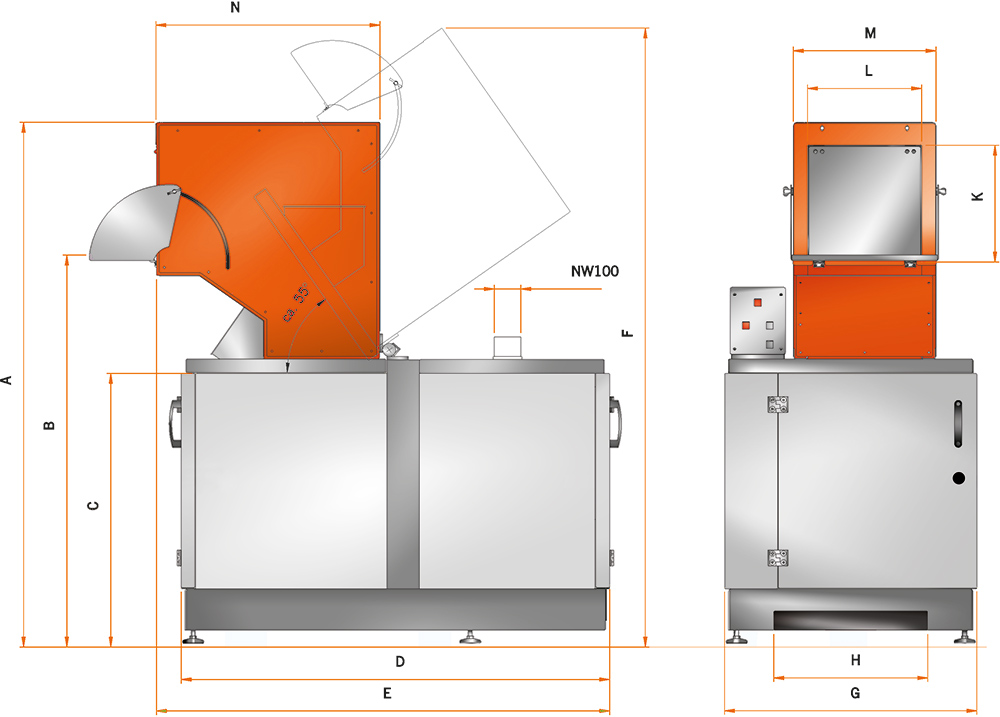 The E-Series: Dimensional drawing
| | 30.50 | 35.40 | 35.60 | 45.50 | 45.80 |
| --- | --- | --- | --- | --- | --- |
| A | 1.870 | 1.980 | 1.980 | 2.120 | 2.120 |
| B | 1.370 | 1.480 | 1.480 | 1.520 | 1.520 |
| C | 920 | 1.030 | 1.030 | 1.110 | 1.110 |
| D | 1.480 | 1.620 | 1.620 | 1.630 | 1.630 |
| E | 1.580 | 1.700 | 1.700 | 1.700 | 1.700 |
| F | 2.210 | 2.330 | 2.330 | 2.600 | 2.600 |
| G | 1080 | 950 | 1250 | 1.090 | 1.530 |
| H | 680 | 580 | 780 | 580 | 780 |
| K | 430 | 440 | 440 | 530 | 530 |
| L | 510 | 430 | 630 | 510 | 810 |
| M | 620 | 540 | 740 | 620 | 920 |
| N | 810 | 840 | 840 | 980 | 980 |
Product images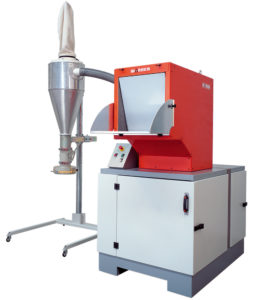 The Wanner Energy Line
Duration: 03:21 min
The central granulator for large parts and high throughputs
This is how the knife change works
for the Wanner Energy series
Duration: 07:03 min