Wanner-Technik Green Line
Power when you need it!
Green Line controls from Wanner-Technik with integrated automatic stop-start ensure that your granulator only runs when necessary. Applications with small throughputs and long cycle times have achieved energy savings of greater than 80%.
Green Line – the solution that reduces your operation costs whilst protecting the environment.
COST-EFFECTIVE QUALITY – WANNER-TECHNIK BESIDE-THE-PRESS GRANULATORS WITH GREEN LINE CONTROLS.
The benefits of a closed sprue circuit with a beside-the-press granulator are obvious – once the moulding process is complete, the sprues generated in each cycle ultimately disappear into the product.
This system becomes even more efficient with relatively small material throughputs per hour (whether owing to small, light sprues or long cycle times) as the granulator is only operated when necessary.
This significantly reduces the time during which the granulator is idling, waiting for the next sprue.
Independent tests have demonstrated significant energy savings – up to 80% and even more in some cases.
The modern technology used for stop-start control ensures that that granulator will operate efficiently for many years whilst adhering completely to required safety standards.
The running and pause time can be easily adjusted for the relevant application via a potentiometer or controlled via a number of selectable operating modes e.g. "Continuous operation" or "Operation via an external signal" which allows the granulators to remain capable of universal use.
Thanks to high-torque drives, whose starting torque is greater than the nominal torque, the Wanner-Technik granulators operate reliably with direct drive, even when there are several sprues in the cutting chamber.
Inital ivestment in this techonlogy typicaly gives a return within 12 months – good news for both your accounts and the environment.
Energy savings of up to 80%  or more in some cases!
Pay back often within one year
Reliable start-up of granulators thanks to high-torque drives
Easy adjustment to the relevant application via potentiometer – the granulator remains universally usable
Long service life thanks to modern semi-conductor switching elements
No compromise on safety
Available for Wanner-Technik C series, D series Compact and Xtra series
C-Series
Xtra-Series
D-Series (Compact)
Power

2,2 kW




3,0 kW




4,0 kW

1,1 kW




1,5 kW




2,2 kW

4,0 kW

Operating modes

Continuous operation

Integrated adjustable pause interval

Pause interval controlled via external conduct

Voltages

400 V/50 Hz




460 V/60 Hz

400 V/50 Hz




460 V/60 Hz

400 V/50 Hz




460 V/60 Hz

Pulse/Pause interval adjustable by potentiometer

Operating time: 18 sec – 3 min

Pause interval: 1 min – 10 min

Operating time: 18 sec – 3 min

Pause interval: 1 min – 10 min

Operating time: 18 sec – 3 min

Pause interval: 1 min – 10 min

Switching elements

SSR/ contactor combination

SSR/ contactor combination

SSR/ contactor combination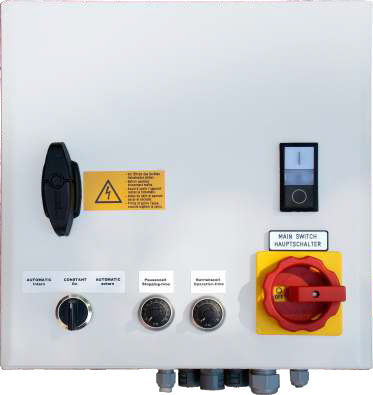 Wanner Technik Green-Line control unit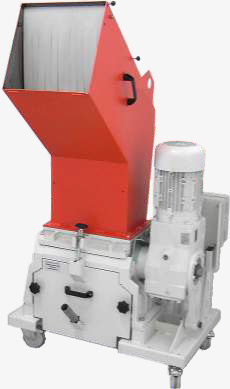 Beside-the-press granulator with Green-Line control